Symphony Orchestra needs you!

11/02/2015 13:11, Published by Jacqueline, Categories:
---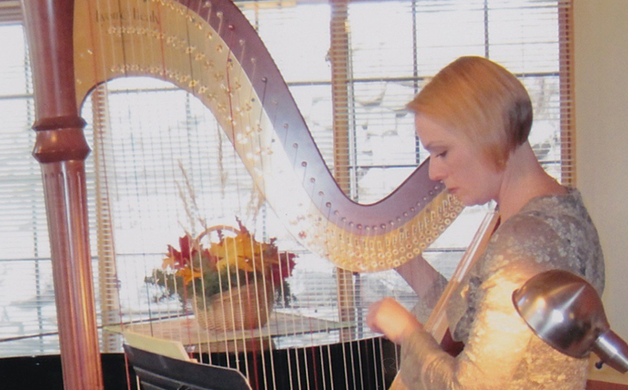 ---
---
Pictured above is Harpist Courtney Hershey Bress
by Margo Hamilton
Bono literary struck a chord when he said, "Music can change the world because it can change people."  No doubt the Denver Symphony lifted the hearts of the downtrodden during the era of Prohibition and the Great Depression as out of the despair the Civic Symphony Orchestra was established in Denver in 1922 and transitioned into the Denver Symphony in 1934.
A Symphony Guild was established in 1935, and the Colorado Symphony Guild website reveals it was conceived "as a helpmate, not only in fund raising, but as nurturer of an image of great music presentation and creation of future audiences for the youth of the city."
Evergreenites Sheila and Frank Parce stirred up interest to establish a Symphony Guild Chapter in Evergreen in 1998 with a mission to "host musicians and teachers from the communication and education organizations."
Boettcher Concert Hall was built in 1978 to house the esteemed symphony, but significant fiscal dilemmas fell upon the Denver Symphony with the dawn of the 1980s.  Bill Coors, whose mother had wished her son a career as a concert pianist, recalled, "I joined the crusade to salvage the Denver Symphony, and an answer was found in 1990 when the Denver Symphony Association merged with the Colorado Symphony Association." 
Evergreen has embraced the Colorado Symphony Orchestra (CSO) for decades.  In the not too distant past, Evergreen Lake and Golf Course transitioned into an outdoor concert arena where picnickers packed in with blankets and lawn chairs to surround both the Lake and golf course for a July 4th extravaganza. A late afternoon concert transcended into a twilight fireworks display beyond compare. With fire restrictions and a booming population, the fireworks and symphony were nixed, but the magic of music remains a staple for Fourth of July and summer concertgoers. 
The mission of Denver metro's six Symphony Chapters is to keep the CSO alive and thriving. The Foothills Chapter is opening its membership to people of all musical interests and ages. Annual membership is $50, and the Foothills Chapter welcomes guests to meet with them the third Saturday of every month to hear a vast array of distinguished, educated and experienced musicians. 
In addition to classical entertainment, the Foothills Chapter platform is opened to local musicians of all ages and provides an enthusiastic audience for our community's musicians to garner performance time.
On July 24, 2014, the Denver Post posted an article with the headline "Denver may tear down Boettcher Concert Hall to build a new amphitheater."  A heartbreaking fact was stated within the article, "Boettcher is too large for the CSO, which fills it about halfway most nights." Music provides a platform of unity for people of all ages and now is the time to band together to not only grow the Colorado Symphony Foothills Chapter, but to unite people of all ages to create an intergenerational program for our community.
The Foothills' Chapter meets at Rocky Mountain Village Estates at 31719 Rocky Village Drive in their beautiful Evergreen Room. Guests are welcomed to join the Chapter at 9:30a.m. for refreshments, followed by an hour of musical entertainment from 10:00 to 11:00.  
To become a Foothills Chapter members or you have questions, call Hanna Holt at 303-674-5103.
---
---