This is a gem of a jewelry store

11/02/2015 15:59, Published by Jacqueline, Categories:
---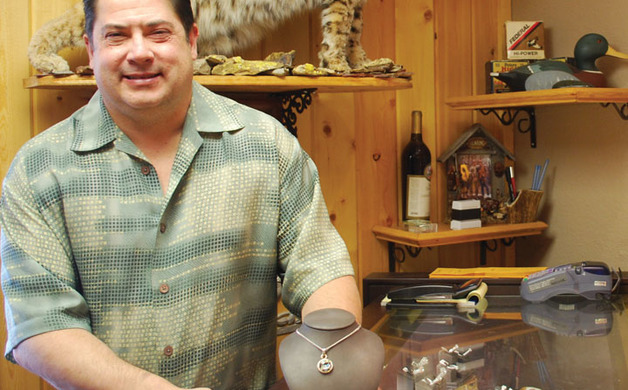 ---
---
by Jo Ann M. Colton
Mountain Gems Ltd. in Conifer, with a strong emphasis on custom work, is truly a gem. This full-service jewelry store offers fabulous quality merchandise (gift certificates available) within affordable price points.

From replicating old jewelry, creating modern designs or performing repairs, all work is done exclusively onsite. The store showcases not only owner Bryan Williamson's own worldwide, high-grade, rare gemstone creations in silver, gold and platinum, but also the designs of other local artists.
Williamson is a master jeweler, certified appraiser and multi-award-winning jewelry designer. He provides one-on-one personal customer service, adapting his quality inventory to meet the wants of area residents. Since the store opened in March 2012, he has consistently added new merchandise like "Wild Things," a sterling silver Biker Line (heavy bracelets, skull rings and custom wallets) and also a Bouillon Group of gold and silver coins and bars.
The store's Sterling Silver Fashion Line (priced from about $80-$300) offers a variety of handmade designs only available at Mountain Gems—like a square snowflake, with your choice of one of five different gemstones as a pendant, ring or earrings. Truly exquisite!
 Further, Mountain Gems caters to knife enthusiasts who appreciate cutting edge knives, from your basic fishing and hunting knife to elaborate collectors' knives.
"Primarily we feature Colorado knife makers—an original gut-hook fishing knife made by legendary knife-maker Artie Nolan of Estes Park and knives by other knife artists, including several made by 34-year-old Coloradan Jacob Wilson," said Williamson who added that award-winning Wilson is known for his exotic materials, such as antelope and cactus, different woods, inlaid stones like rare white turquoise, and Damascus (multiple-layer/pattern) blades.
 The store's Estate Line of previously owned jewelry, which it sells at 50% of the price, if new, has really taken off. Mountain Gems accepts jewelry trade-ins toward custom work, trades and outright jewelry purchases. All estate pieces are reconditioned; some are even altered and/or updated to maximize their appeal.
 "Estate pieces must achieve an 8.5 out of 10-point scale rating to make the case wherein only about 20% of such selections are displayed," said Williamson, adding that typically the estate case features about 100 pieces.
Mountain Gems is located at 26001 Main Street in Conifer, open Tuesday-Friday 10-6; Saturday 10-5. Take advantage of the store's holiday special. Enjoy a 25% discount on any in-store purchase. Mountain Gem's technology and fabulous new product lines add up to make this jewelry store a one-of-a-kind "gem."
---
---
jewelry Mountain Gems Ltd. Colorado knife makers Artie Nolan original gut-hook fishing knife Bryan Williamson knives
---