Elizabeth Macek: There no place like home

12/28/2015 10:53, Published by Jacqueline, Categories: Home+Garden, Health+Wellness
---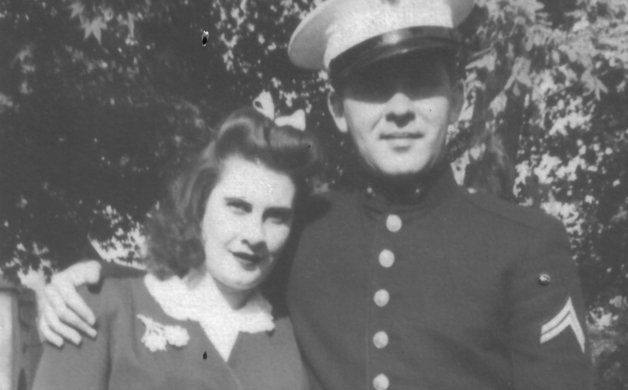 ---
---
Photo above of Liddy Macek and her husband, Victor, during World War II.
by Stephen Knapp

When Elizabeth 'Liddy' Macek is expecting company, she wears pearls. She also wears pearls when she's not expecting company.
"I just like to wear them," said Liddy, a warm and welcoming 94-year-old. "Yesterday I wore a tiara, too."
Most days the only person who sees Liddy's pearls is her son, Bill. He's there to make her breakfast in the morning, and again to make her dinner at night. 
Liddy and Victor Macek settled down in their charming Marshdale home back in 1972. They raised Bill there, and while Victor was busy building a career down the hill, Liddy opened their home to the children of her mountain neighbors. 
"I was a nanny," she said. "I raised a lot of kids in this house."
The knotty-pine walls are covered with pictures and hangings collected over 72 years of marriage. On the coffee table in front of her stands a photograph of Victor in Marine Corps dress blues. 
It's a quiet life and, in many ways, a solitary one, and she's grateful for it every quiet minute of every quiet day. It was only last year that she and Victor were both being cared for by nurses from Mount Evans Home Health Care & Hospice. Victor didn't live to see the new spring, but, with Mount Evans' help, Liddy began to recover. 
While the professionals attending her did everything possible for her comfort, Liddy's foremost thought was to stay in her pine-shaded home and rest in the comforting company of her memories. Thing was, not even Bill's best efforts could close all the gaps in the safety net she would need to make that happen. Thing is, safety nets are what Mount Evans does best.
Kim Westerberg has been a regular visitor on Wild Rose Drive ever since Liddy came home. The Mount Evans field nurse diligently monitors Liddy's condition and provides the home health care that keeps her at home. And Rhiannon Sullivan, head of Mount Evans' essential Mountain Journey program, sees to it that Liddy and her son never want for the other key assistance that gives Liddy a precious degree of independence, everything from physical and occupational therapy, to transportation, to help securing financial aid.
"Although Elizabeth no longer meets Medicare's definition of needing help, we would never just abandon her," Rhiannon says. "By enrolling her in Mountain Journey, our volunteers are able to offer a watchful eye and keep her connected to support services."
Liddy is wearing pearls today and, as it happens, is also expecting company. As she often does, Mount Evans volunteer Betty Peterson is coming by for a pleasant morning's chat. The two women sit together on the over-stuffed couch and gab like the best of friends, which, really, they are.
"We sing old Al Jolson songs," says Liddy, and then immediately demonstrates. "Gone are the days when my heart was young and gay," she sings. "Gone are my friends from the cotton fields away. Gone from the earth to a better land I know, I hear their gentle voices calling 'Old Black Joe.'"
It's a bittersweet number, but Liddy knows all the words and she makes them sound joyful, somehow. She doesn't walk well anymore, and she's got a handful of medications to take every day, and she's bone-tired more than otherwise. But, thanks in no small part to Mount Evans and living, breathing pearls like Kim and Rhiannon and Betty, she's home, and so she is content.
"They're wonderful, all of them," Liddy said. "There's always something to be happy about."
Stephen Knapp is a local freelance writer and published author. Contact him at stavrosknappos@aol.com.
---
---
Mountain Journey Program Mountain Evans Hospice and Home Health Care Liddy Macek Elizabeth Macek
---