Jean Lambert: Conifer history buff

01/27/2016 09:46, Published by Jacqueline, Categories: Home+Garden, Today Health And Fitness
---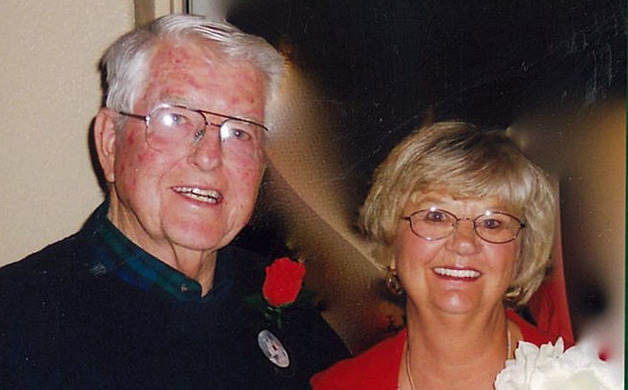 ---
---
Bill and Jean Lambert pictured above
article by Carla Mink

When longtime resident Jean Lambert moved to Conifer, she didn't know her family history... yet. The boxes of letters, photographs and family truths were still packed away. 
During Jean and husband Bill's years in Conifer, she would learn more than most about her family's past generations. Jean would discover that she is a direct descendent to Daniel Boone and that her family tree includes names like President John Adams and Miles Standish. 
She would learn that she was related to Samuel Fuller, who came over on the Mayflower with his parents and  uncle. Jean would learn that on March 20, 1780, her great-great grandfather, Robert Hardin (5 years old at the time) hid in his mother's skirts while Indians boarded their raft on the Ohio River and killed many family members. Robert and his mother, Mary Molly, survived the massacre, only to endure being held captive in an Indian encampment for over two years. At the time of the massacre, Mary Molly was pregnant and gave birth to a baby girl seven months later, while in the camp. 
It makes what we endure (long lines at grocery store, traffic on 285 and a dead battery in our cell phone) seem trivial, doesn't it?
Although they didn't know each other yet, Jean Frates and Bill Lambert both attended Kearney State Teacher's College in Kearney, Neb., (now UN at Kearney). They went out on a blind date during Jean's second year. After that date, Bill decided he wanted to marry Jean. He proposing after the first date but she said "no". Five months later, on Oct.12, 1957, he proposed to her on the 50 yard line and this time she said YES!  They were married in August of 1958. Jean was a first-grade teacher in Cozad, Nebraska. Bill got a job as a tech arts teacher and coach in Brady, Nebraska.  They remained in Nebraska for three years, then Bill interviewed and got a teaching/track coaching job in Conifer. They moved to the small mountain town in August of 1962.
It didn't take long for the Lamberts to make Conifer their home. They found the perfect land on a sunny green hillside, with a "million dollar view," and built their home. They had two more children, John and Jennifer (Alan was born in Nebraska before they moved). Bill loved his sons dearly but his family celebrated the birth of little Jennifer, the first girl born in the Lambert family in four generations.  
When the children were all in school, Jean went back to work in the classroom. She worked as an aide in a preschool at Conifer Community Church. She also worked as a classroom aide at West Jeff Elementary and then as a library and computer lab aide at West Jeff Junior High. 
Jean has always been involved in the community. She has been active in the Conifer Community Church. She and Bill both were deacons, and Jean served as the president of the Church Council. Jean and neighbors have hosted many holiday events for neighborhood children. She fondly remembers the time that Bill filled 1,000 plastic Easter eggs with goodies for the children. It's a secret about town, but Jean has been Mrs. Claus on the fire truck at the Conifer Christmas Parade for many years…shhh!
Jean began researching her genealogy. Her interest in family history began when her father would tell stories of his family, who came to the U.S. in 1886 from the Flores Island in the Azores. At least three generations of Jean's father's family had been whalers. Her great-great grandfather was lost at sea.   
Jean found other people in Conifer who were interested in genealogy and together, Jean, Jean Brooks and Nancy Markuson started the Mountain Genealogist Society. With the help of a cousin, she uncovered a very rich family history, going back 13 generations to 1585. She is an excellent JEANealogist!
Jean became interested in Conifer history. She joined the Conifer Historical Society & Museum located at the Little White Schoolhouse on Barkley Road. Jean served on the CHSM board and is the current chair of honorary membership for residents who have lived in Conifer for over 50 years. Jean believes that if you learn about history in your new hometown, it's like putting down environmental roots.
Bill retired from teaching and coaching in 1992— he had taught Tech Arts and coached track, football and basketball for over 30 years. He was a positive role model for thousands of children. In addition to school activities, Bill was very involved with Boy Scout Troop 400 and he was an active sponsor of the Eagle Scout Program. Bill and Jean were very proud when both of their sons became Eagle Scouts.  
During his years at West Jeff Middle School, Bill saved photos of his students and the projects they made. He also saved newspaper articles highlighting his student's track accomplishments. Jean compiled these treasured memories into a book and presented it to Bill at his retirement.  Bill loved the book and enjoyed sharing it with visitors, especially students who would drop by to see their favorite teacher.  
Bill passed away in December 2013. It's been rough for Jean and her children, but her faith, family and friends have been by her side…and she feels blessed to have so many friends and to be living in Conifer. But we are the ones who are blessed to live in the town that the Lamberts helped settled.
Recently Jean decided to donate Bill's Retirement Book to the Conifer Historical Society & Museum to be included in the archives. Of course she discussed this with her children and they were all for it. Alan, the oldest son is scanning it, so they have a copy of it. Soon the book, filled with years and years of photos of students and Conifer life will belong to Conifer's current and future generations, right where it belongs.
If you have photos, scrapbooks or other documents to donate or to share, please call the Conifer Historical Society at 303-396-5975.
The Mountain Genealogist Society meets the second Thursday of each month at 7 pm at the Church of the Hills in Evergreen. Visit the website at www.mountaingenealogists.org.
The Conifer Historical Society and Museum meets the second Wednesday each month (except December) at 6:30 pm at the Little White Schoolhouse on Barkley Road in Conifer. For more information call 303-396-5975 or visit ConiferHistoricalSociety.org.
---
---
health and fitness Bill and Jean Lambert Conifer history Carla Mink West Jefferson Elementary School Jean Brooks Nancy Markuson Mountain Genealogist Society Conifer Historical Society Little White Schoolhouse Jean Lambert
---