People Comforters: quilts for victims

07/27/2016 09:44, Published by Jacqueline, Categories: Home+Garden, Health+Wellness, Today
---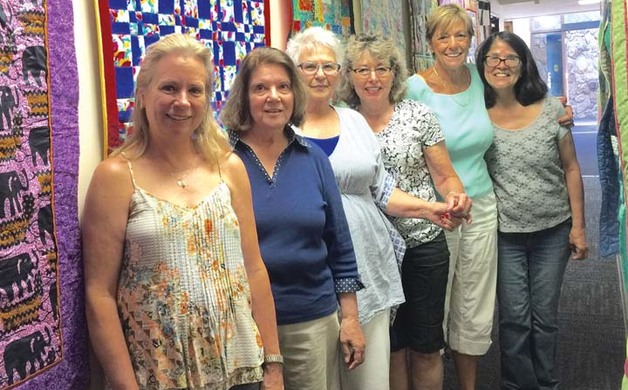 ---
---
by Margo Hamilton
The Schneider family's ranching heritage dates back to 1883, and the family is as perpetual to the community as asphalt is to roads.  
In 1990, one of their beloved ancestors, relic rancher Minnie Crosson Schneider, united five friends and contributed $250 toward her heartfelt idea: she wanted to sew quilts that Jefferson County's law enforcement officers and victim assistance staff could provide to people whose lives were traumatized and comfort, security and wellbeing were absent.  
The moniker became People Comforters, and for 36 years Minnie's mission has helped thousands of people from infants to those frail with age who have endured loss, hardship and abuse.
Quilter Juel Decicco cites a few of the situations where People Comforters have helped victims snuggle into solace. "Our quilts have been given to rape victims, families who have lost their homes to fires, children removed from their home due to abuse issues, and family members who have lost loved ones due to horrific crime. It's comforting for both the police and victim advocates to comfort children and adults who have experienced a catastrophic casualty with a comforting quilt.  We have provided numerous quilts to families who lost their homes due to fires, and the quilts are perhaps the first items they receive after losing everything. When a member of the Jefferson County Sheriff's Department dies in duty, we donate quilts to their family members.  We also create layettes and baby blankets for Denver's Gabriel House, which is an outreach ministry of Catholic Charities of the Archdiocese of Denver who are committed to helping pregnant women and families with young children in need."
People Comforters understands the horror women experience when forced to escape their homes to seek shelter in safe houses due to ongoing physical and sexual abuse. Quite often victimized women leave with only the clothes on their backs and children in tow.
Shelters provide fresh beds, baths and linens, but not personal toiletries. People Comforters gives these women and their children toiletry bags complete with toothpaste, toothbrushes, wash clothes, mouthwash, soaps, shampoos, conditioners and a number of other personal items to meet the needs that are often overlooked.
Sewing has become as antiquated as rabbit-ears antennas, and an abundance of fabrics and sewing notions disappeared with Evergreen Drug Store. Obviously, People Comforters is in constant need of these items, and they receive grant money through the Victim Assistance and Law Enforcement (VALE) fund, which is a funding mechanism that generates funds in each of Colorado's twenty-two judicial districts. Juel explains, "VALE allows us enough funding to purchase fabric and sewing notions, but nothing more.  We are in constant need of charitable contributions, and nothing is wasted.  Nothing."
People Comforters sews approximately 360 quilts a year, and  welcomes volunteers ranging from sewing or quilting fanatics to those who don't know the difference between a bobbin and a basting stitch.  "We love to teach people how to make quilts and also love seasoned quilters to join us. 
For those who don't have the time to join us at our location to sew, we provide prepackaged quilting materials so they can sew from home at a time convenient for them," declares Juel. If you're looking for something to do that's meaningful, donate your money and your time to this beloved community nonprofit.  
For more information, call Juel at 303-670-1274.
---
---