1191 Commerce Park Drive, Altamonte Springs, FL 32714
May 15, 2012
07:00PM - 10:30PM

Price: $25.00

Posted by: Greg Edit event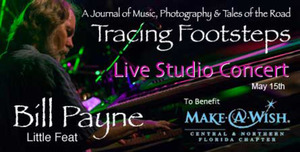 Description:
Living Legends Music® presents Tracing Footsteps: A Journal of Music, Photography, and Tales of the Road with Little Feat keyboardist Bill Payne and his special guest Dennis McNally on Tuesday, May 15, 2012. Bill Payne is best known as co-founder (along with Lowell George) of the legendary American rock band Little Feat. Dennis McNally is a free-lance journalist and published author, who also served as publicist for The Grateful Dead from 1984 through 1995. The concert will include live performance on piano and keyboards from Bill Payne, as well as his photography being featured on the large screens. The artist will offer commentary on his music, his career with Little Feat and beyond, and commentary on his photography as well. Dennis McNally will offer stories from his days working as publicist with the Grateful Dead, and discuss of some of his written works. He will also serve as moderator for the question and answer segment at the evening's conclusion.
Tickets can be purchased for $25.00 online at http://www.tracingfootstepspayne.eventbrite.com for the Tuesday, May 15th concert at GRP Studios, 1191 Commerce Park Drive, Altamonte Springs, Florida 32714, for both the 7 p.m. and 9:30 p.m. shows, with all ticket sales going to the Make-A-Wish Foundation of Central and Northern Florida.
Concert sponsors are GRP Studios, audio-video-film since 1974, and Club Sevilla, an Orlando-area Attractions Resort.
---
---